What are you seeing?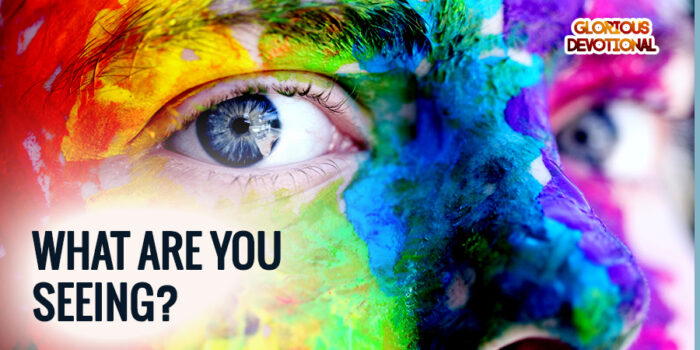 Monday 20th March 2023
'We are not trying to commend ourselves to you again, but are giving you an opportunity to take pride in us, so that you can answer those who take pride in what is seen rather than in what is in the heart. If we are "out of our mind," as some say, it is for God; if we are in our right mind, it is for you. ' 2 Corinthians 5:12-13 NIV
In the verse above, Apostle Paul was talking about how certain people were seeing him. They saw him as out of his mind, but he was seeing something in himself different from what they were seeing.
While they were saying maybe he is out of his mind, he was seeing something completely different. While they saw him becoming mad, he was seeing how the Lord was assessing his performance on earth. While they were seeing him doing crazy things for God, he was seeing himself living the type of life the Lord loves. While they were writing him off, he was seeing the Lord being pleased with what he was doing.
Now those who were talking down on him are all gone and forgotten, and his name is forever written in history.
What you see determines how you would live, and how far you would go in life, and even after life. Your future depends on what you see right now. Your sight controls your actions and your decisions, and your actions and decisions determine your destination in the future.
Where you would end up depends on what you see now.
What do you see?
This is why the Word tells us exactly what to look at.
'looking unto Jesus the author and finisher of our faith… ' Hebrews 12:2a
Because what you see now, determines what you will see in future. What you see now will change what is in your future.
While they were seeing was his physical appearance. What he was seeing was himself before the judgement seat of Christ. Now what he was seeing has turned out to be much more important than what they were seeing.
They are gone and forgotten, but the world will never forget him.
They were seeing the physical, he was seeing the Word.
Once again, what are you seeing?
Will what you are seeing make you relevant tomorrow, or will it leave you out of reckoning tomorrow?
Are you seeing the physical, or are you seeing and focusing on the Word?
CONFESSION
I am seeing the Word always, and I am excelling because of it. I am seeing and thinking on the Word always, and I am blessed in my going out and in my coming in. Greatness is mine. The Word in me has made me more than a conqueror. I am a winner, and my name is written in the sands of time, in Jesus Name, Amen!
MORE LIGHT (MEDITATE ON, AND PRAY WITH THESE)
2 Kings 6:17 And Elisha prayed, and said, LORD, I pray thee, open his eyes, that he may see. And the LORD opened the eyes of the young man; and he saw: and, behold, the mountain [was] full of horses and chariots of fire round about Elisha.
Psalm 146:8 The LORD openeth [the eyes of] the blind: the LORD raiseth them that are bowed down: the LORD loveth the righteous.
Ephesians 1:18 ESV Having the eyes of your heart enlightened, that you may know what is the hope to which he has called you, what are the riches of his glorious inheritance in the saints,
Proverbs 20:12 The hearing ear and the seeing eye, the Lord has made them both.
Check below for more interesting articles.
Kindly ask questions, etc in the comment box below.
Be blessed as you share. God bless you.