Just Do the Word and Wait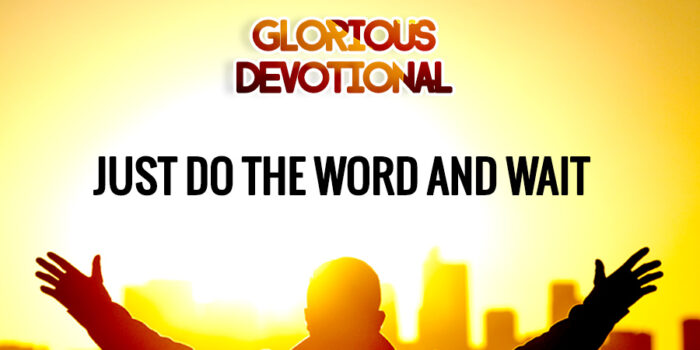 JUST DO THE WORD AND WAIT
Thursday 19th January 2023
Oh, taste and see that the Lord is good! Blessed is the man who takes refuge in him! Psalm 34:8
The Bible tells us that the Lord is a good God.
Psalm 31:19 says:
Oh, how abundant is your goodness, which you have stored up for those who fear you and worked for those who take refuge in you, in the sight of the children of mankind!
In fact, the Lord is so good, that all you need to do while studying and doing His Word is to wait on Him, and He would definitely come through for you, tell you what to do, and change your life.
'But they that wait upon the LORD shall renew their strength; they shall mount up with wings as eagles; they shall run, and not be weary; and they shall walk, and not faint.' Isaiah 40:31
Hallelujah!
Are you feeling weak, down, discouraged, or unbelieving now? If you have given your life to Him, just study and do the Word and wait. The Lord is coming through for you soon!.
There are angels coming to minister your breakthrough to you. Stay in the Word, and He would minister His grace, power and miracle to you!
Ephesians 6:13 'Wherefore take unto you the whole armour of God, that ye may be able to withstand in the evil day, and having done all, to stand. '
The armor of God is studying and acting on the Word of God. The Bible says, after doing the Word, there is no need to worry, to fret, or to be impatient. Just stand and wait, for the salvation of the Lord will definitely soon break in your life, hallelujah!
CONFESSION
I am full of strength and grace. I wait on the Lord, and I renew my strength. I mount up on wings as an eagle I run and I do not grow weary. I walk, and I do not faint. The hand of the Lord is upon me to bless, deliver and increase me. I am more than a conqueror in the affairs of life, and I am walking in my blessings and divine destiny in Christ, in Jesus Name!
MORE LIGHT (MEDITATE AND PRAY WITH THESE)
Psalm 27:14 Wait for the Lord; be strong, and let your heart take courage; wait for the Lord!
Psalm 37:7 Be still before the Lord and wait patiently for him; fret not yourself over the one who prospers in his way, over the man who carries out evil devices!
Micah 7:7 But as for me, I will look to the Lord; I will wait for the God of my salvation; my God will hear me.
Lamentations 3:25 The Lord is good to those who wait for him, to the soul who seeks him.
Check below for more interesting articles
Kindly share, and you'll be blessed. God bless you.