Having the Faith That Works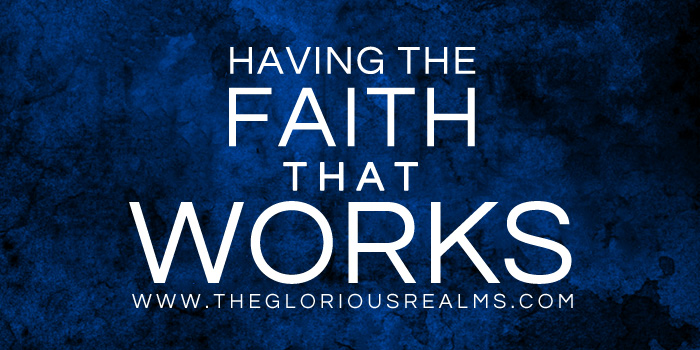 Faith is the basis of our lives. As the justified of God we are to live by faith. Faith is in fact the solution to must of out challenges.
Hebrews 10:38; "Now, the just shall live by faith … "
The bible says we walk by faith and not by sight, 2Corinthians5:7. How do we live by faith? On several occasions in the bible, Jesus referred to some persons as people with little or no faith and to some other persons, He was amazed by their faith. What was the difference between these persons? Lets take some examples.
The Woman With the Issue of Blood
Matthew 9:20-22 tells us the story of the woman with a serious health issue for twelve years who touched the helm of the garment of Jesus and was healed. The bible said she spoke to herself, 'If I could touch the hem of his garment I will be healed'. I want to point something out here. She first believed in the power in Jesus, spoke what she believed, acted on it, and she got her healing. The Bible said Jesus turned to her and said 'Thy faith hath made you whole'. Jesus said she had faith. What did she do? She BELIEVED, SPOKE and ACTED.
What about the centurion? His servant was sick and he came to Jesus. Jesus said to Him 'I will come and heal him' but this man did something, he spoke his belief. He told Jesus, just speak the word and my servant shall be healed. Jesus was amazed by his faith. What did he do? He BELIEVED in the power in Jesus, he ACTED on it by going to Him, and he SPOKE his belief. Jesus said, 'Verily I say unto you, I have not found so great faith, no, not in Israel.' (Matthew 8:10)
Now, an example of those Jesus said they had no faith. One time, Jesus and His disciples were in a ship. A great storm arose that nearly sank the ship. The bible say Jesus was asleep and they came to wake him and said 'Master, carest thou not that we perish?'. And after Jesus rebuked the wind he said to them, 'why are ye so fearful? How is it that ye have no faith?'. What did they do? They saw with their physical sight and they became afraid and spoke their fear, and Jesus called them people of no faith.
Faith does not work with physical principles. When you speak what you see with your physical eyes or understand with your physical senses, that is faithlessness. Faith is believing, speaking and acting on God's Word. For every challenge you might be facing now, go for the word of God, speak it and act on it and you will get results!
CONFESSION: Thank you Father for the power in your Word. I believe Your word and I speak it. I'm seeing answers, I am getting solutions and testimonies everyday of my life. I increase in faith and I live by faith. Thank you Jesus!