The System is Spiritual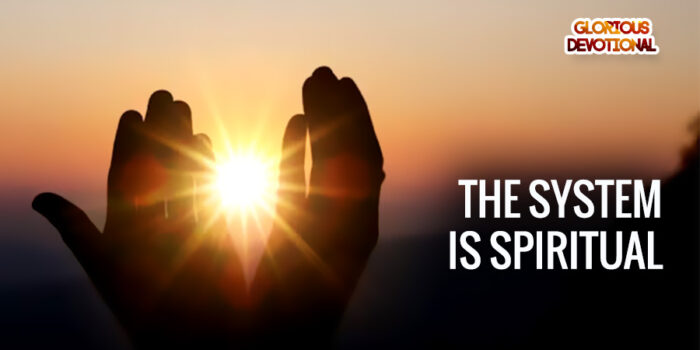 [lwptoc]
Friday 3rd February 2023
A man can receive nothing, except it be given him from heaven. John 3:27
The Bible lets us know that life is spiritual. It tells us that the things that are seen (the physical) is just temporal, but that the spiritual is more powerful, and thus rules over the physical.
We are not looking at the things being seen, but the things not being seen. For the things being seen are temporary, but the things not being seen are eternal. 2 Corinthians 4:18 BLB
Because of this, the only lasting way to move forward in life is actually spiritual.
Every good gift and every perfect gift is from above, and cometh down from the Father of lights, with whom is no variableness, neither shadow of turning. James 1:17
Some people focus on the physical aspects of life, and neglect the spiritual aspect. Both of them are actually important, and the spiritual is much more so.
Sometimes, we hear of someone doing so well in career, business, academics, and so on, then we hear they suddenly got sick, got into an accident, etc.
Especially in some parts of the world, there are principalities that do not want certain levels of achievement, success and so on. When people push to achieve such things without dealing with the spiritual aspects, they can actually achieve them, but have some serious issues later as a consequence.
This is why it is important to always pay attention to our spiritual lives. Do not just push or work without prayers, giving praise and thanks to God, confessing the Word, giving, etc. Both spiritual and physical work have to go together, with more emphasis on the spiritual.
When you make a stride in the realm of the spirit, and it manifests physically, no devil or attack can take it away from you when you are standing in faith. If you ever have challenges, take time to spend time with the Lord, pray, stand on your faith, speak the Word and give God praise, and you shall soon have your manifestation.
The Lord has called us to be kings, ruling on the earth, and priests, taking charge in the realm of the spirit (Revelation 1:6). Make sure you fulfill your role as a priest. Do not focus only on the physical, and you shall have the victory!
CONFESSION
I am taking charge in the realm of the spirit. I am full of God's Word and with the Holy Spirit. I am taking charge of things spiritually, and advancing greatly in life. I know what to do, and I am full of strength from the Word of God. i am not carnal, but am full of wisdom and understanding, hallelujah. I am full of victory, in Jesus Name.
MORE LIGHT (MEDITATE ON, AND PRAY WITH THESE)
Hebrews 11:3 NLT By faith we understand that the entire universe was formed at God's command, that what we now see did not come from anything that can be seen.
Ps 127:1 Except the LORD build the house, they labour in vain that build it: except the LORD keep the city, the watchman waketh but in vain.
John 15:5 I am the vine, ye are the branches: He that abideth in me, and I in him, the same bringeth forth much fruit: for without me ye can do nothing.
Jer 10:23 O LORD, I know that the way of man [is] not in himself: [it is] not in man that walketh to direct his steps.