The Spirit in You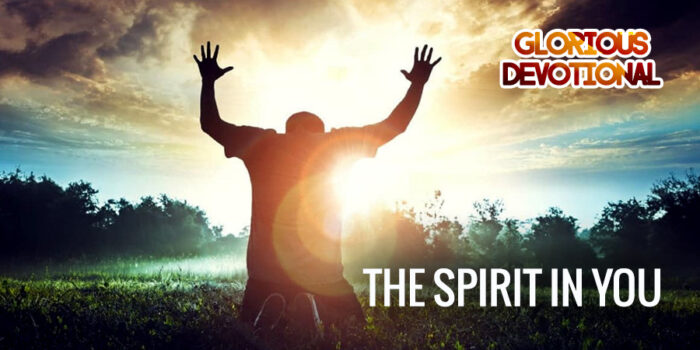 Wednesday 1st February 2023
As a Christian, the Holy Spirit can lead you to your success. The Spirit in you is the solution to your issues.
"But the fruit of the Spirit is peace, love, joy, forbearance, kindness, goodness, faithfulness, gentleness and self-control. Against such things there is no law." (Galatians 5:22-23)
Peace is one of the major fruits of the Holy Spirit who lives in us. It is a major fruit of the Spirit, and also a major way He (the Holy Spirit of God) leads us.
For the kingdom of God is righteousness and peace and joy in the Holy Spirit (Romans 14:17)
Having the peace and joy of the Spirit is different from just being happy. Happiness is emotional, but peace and joy come from within your spirit. When you laugh because of joy, the laughter is from your spirit.
You can laugh because of a comedy, a joke, etc, because of happiness from your emotions. But peace and joy are different. Peace comes from your spirit. The Bible says your spirit knows all things (1 John 2:20). Peace comes when your spirit knows that all is well. Happiness is just an emotional feeling, and is not a knowing. Peace is a knowing, and not just any feeling. It is what you need, not just emotions which do not have any real direction.
PEACE is your guide and help, to fight against 3 P's that stand against you fulfilling your Purpose: PRESSURE, PLEASURE AND PEOPLE.
Situations and circumstances always want to Pressure you into doing what your spirit is not telling you to do. Pleasure always wants you to waste your time and resources on things that you know your spirit is not leading you to do. People always want you to do something else apart from what the Lord and your spirit are leading you to do.
But follow your PEACE. It will lead you into the right path of greatness that the Lord wants for you. Notice that the 3 P's are from the outside, but PEACE is from your inside.
The Spirit in you is the answer
Your answer is within you. It is not outside. The Spirit in you can guide you. Your spirit knows how you will win, and it directs you through peace from the Holy Spirit.. However, Pressure from the outside world, the temptation of Pleasure, and other People will always try to steal your purpose from you. Fight against their distractions.
Focus on you. Your success is within you. Your purpose is within you. There is an instinctive knowing of what you ought to do from your inside. Speak in tongues and spend time with God to make it sharper.
Let the Spirit in you guide you to greatness, hallelujah.
CONFESSION
I am more than a conqueror. I win always in life. The Spirit of God in me guides me to my purpose and success. I am focused and I know what to do at all times. I am aware of my path to success, and the Lord is giving me more instructions to take me further in greatness, in Jesus Name!
MORE LIGHT (MEDITATE ON, AND PRAY WITH THESE)
John 16:13 Howbeit when he, the Spirit of truth, is come, he will guide you into all truth: for he shall not speak of himself; but whatsoever he shall hear, [that] shall he speak: and he will shew you things to come.
Romans 8:14 For as many as are led by the Spirit of God, they are the sons of God.
1John 2:27 But the anointing which ye have received of him abideth in you, and ye need not that any man teach you: but as the same anointing teacheth you of all things, and is truth, and is no lie, and even as it hath taught you, ye shall abide in him.
1 John 2:20 But ye have an unction from the Holy One, and ye know all things.