If you sin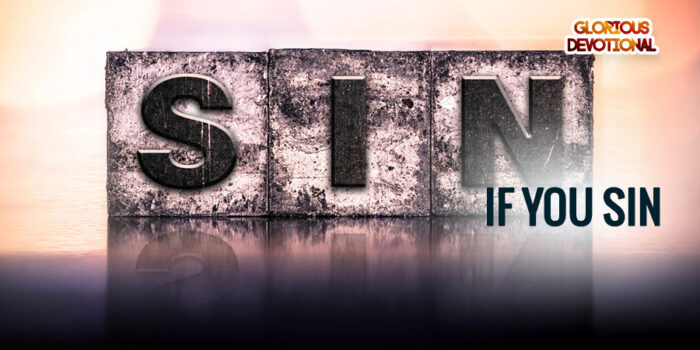 Tuesday 28th February 2023
If you sin, what do you do?
My little children, I am writing these things to you so that you may not sin. But if anyone does sin, we have an advocate with the Father, Jesus Christ the righteous. 1 John 2:1
The Lord does not want us to sin. But what happens if we do sin? The Word tells us that we have an advocate with the Father to handle that, Jesus Christ the righteous.
A lot of times, we allow the guilt of sin to drive us away from the Lord. However, when we sin is actually when we need the Lord even more! We need the blood of Jesus to wash us clean from the guilt, shame and repercussions of sin. We need His righteousness to wash us clean at that moment. Do not run away from Him, run toward Him!
'If we confess our sins, He is faithful and just to forgive us our sins and to cleanse us from all unrighteousness. ' 1 John 1:9 NKJV
When we sin, it is time to speak to God immediately: confess, and allow His forgiveness and cleansing to wash over you, and cleanse you from every guilt, stain and repercussion. Also ask Him for the strength never to fall into that sin again.
God doesn't forgive us so we can sin again and again. He forgives us so we can have the strength not to sin anymore. We also have to open up ourselves to using that strength.
If you sin, run to your Father immediately. Do not allow the consciousness of sin to affect you. Sin consciousness can put a wedge and distance between you and the Lord. The consciousness of sin can affect you even more than the sin itself. You don't need to stay in that low place for a second more. The Bible says He is faithful and just to forgive your sins. Receive your forgiveness from Him, and keep moving up in Him straight away!
Do not allow sin consciousness to bring you down. Rather be righteousness conscious. The Lord has made you righteous forever in Him, not because of your actions, but because you are saved, covered and washed by the blood of Jesus.
'He made Him who knew no sin to be sin on our behalf, so that we might become the righteousness of God in Him.' 2 Corinthians 5:21
We have been made the righteousness of God in Christ. This is what giving our lives to Jesus and dwelling on the Word gives us. You are the righteousness of God in Christ Jesus, hallelujah!
Stand above sin today.
The Lord has only given you the life of ALL-ROUND victory!
CONFESSION
I know who I am. I am the righteousness of God in Christ Jesus, and I am strong to stand against sin. I am more than a conqueror in Christ. I do not live the low, defeated life of sin. I live in victory spiritually, financially, maritally, and professionally, in Jesus Name.
MORE LIGHT (MEDITATE ON, AND PRAY WITH THESE)
1 John 2:12 I write unto you, little children, because your sins are forgiven you for his name's sake.
Psalm 103:12 ESV As far as the east is from the west, so far does he remove our transgressions from us.
2 Timothy 1:7 ESV For God gave us a spirit not of fear but of power and love and self-control.
Philippians 4:13 I can do all things through him who strengthens me.
Kindly share, and you'll be blessed. God bless you.
Check below for more interesting articles