The Lord's Instructions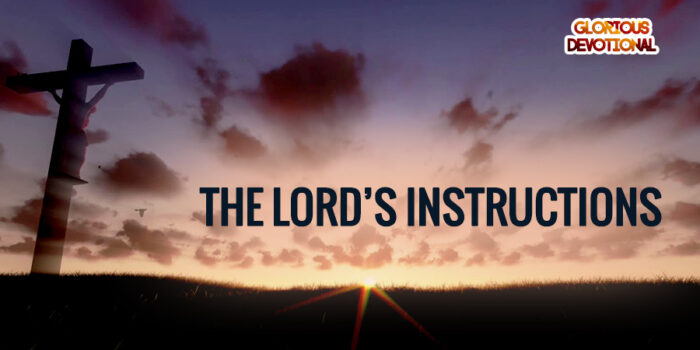 Friday 10th March 2023
'For as many as are led by the Spirit of God, they are the sons of God. 'Romans 8:14
When we pray, even when we believe and have faith for what we prayed for, it is important that we hear from the Lord concerning the instructions for what we need to do to get our answers manifest.
Most times, as Christians, we feel the Lord can just snap his fingers and anything He wants to happen would. However, some times, the Lord has to have your prayers answered on the earth through some physical method, involving you or someone else.
This is why listening to His instructions is so important.
The Lord spoke to Abraham, that his children (the children of Israel) would be in Egypt for a particular time, and then they would be delivered, and move into a land flowing with milk and honey. However, until Moses got the instructions for this to happen and acted on them, nothing happened. They were in captivity, even though it was time for them to be delivered.
When the Israelietes were in Babylon too, the same thing happened, and until Daniel got instructions and started acting on them, their prophesied deliverance never came.
As a Christian, it could be time for your turnaround now, but until you hear, and start doing what the Lord has instructed you to do to get your answer to manifest, you might never see it.
The fact that you are working hard and praying, without listening for instructions, does not necessarily mean you would get all you have prayed for.
The Spirit of God can lead you on what to do to receive and manifest the answer to your prayer. You just need to spend more time with Him, and ask Him to lead you in the right way.
You shall succeed in Jesus Name.
CONFESSION
I am blessed and obedient to the Spirit of God. My ears are open to hear the instructions of the Lord that lead me to higher heights in life and in Christ. The light of my life is as the shining light. It is shining brighter and brighter, even unto the perfect day. I am more than a conqueror, in Jesus Name.
MORE LIGHT (MEDITATE ON, AND PRAY WITH THESE)
John 16:13 Howbeit when he, the Spirit of truth, is come, he will guide you into all truth: for he shall not speak of himself; but whatsoever he shall hear, [that] shall he speak: and he will shew you things to come.
Isaiah 1:19 If you are willing and obedient, you shall eat the good of the land.
Exodus 23:22 ESV "But if you carefully obey his voice and do all that I say, then I will be an enemy to your enemies and an adversary to your adversaries.
Luke 11:28 ESV But he said, "Blessed rather are those who hear the word of God and keep it!"
Check below for more interesting articles.
Kindly ask questions, etc in the comment box below.
Kindly share, and you'll be blessed. God bless you.