God's Productivity Formula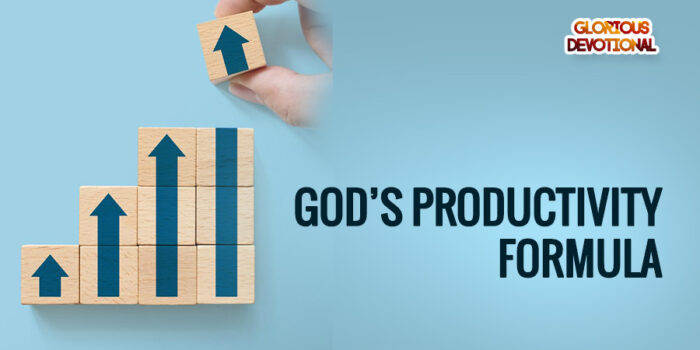 Monday 27th February 2023
Did you know God has a productivity formula?
1 Thessalonians 5:21-22 But test everything; hold fast what is good. Abstain from every form of evil.
The Bible tells us to test everything, and hold on to that which is good, or better, and to keep away from that which is unhelpful, or evil.
A lot of times we spend our time on what are called low-value activities. These are activities that would not produce a high value in our lives in the long run, or which would not change our lives in the long run.
Trying to quickly change, for example, your financial life in a month, is probably just greed. However, we need also to be spending our time only on things which can, in the long run, change our lives for the better. The more it can change your life, as long as there is nothing wrong with it, spend your time only on such things..
'Finally, brethren, whatsoever things are true, whatsoever things are honest, whatsoever things are just, whatsoever things are pure, whatsoever things are lovely, whatsoever things are of good report; if there be any virtue, and if there be any praise, think on these things. ' Philippians 4:8
Do only things true, honorable, just, pure, lovely, commendable, excellent and worthy of praise. This is the way of the Word, that would bring blessings to you and your kids.
But make sure those things are high-value activities.
Do not allow your locality to distract you from your destiny. Use your locality (location) to work on moving towards your beautiful destiny tomorrow. What is that thing that the Lord has been telling you to do in a still small voice, that can change your status and your life in years' time? Maybe you have been feeling it's too difficult. But that's it. That's the high value activity that would dramatically improve your productivity.
Productivity is not just about being busy. It's about being busy making good speed.
And it's also not about just money. It's about a change of status. Money can be spent and goes away. Change of status/achievements stay with you.
If you are building a business or you are investing your money into something life-changing, making money can count for this. Otherwise, it doesn't. Every successful person has had to do something that they don't like in order to change their status. If you are still enjoying all you are doing, all the time, you probably have not started anything yet. | If you are not doing something that is so difficult that you feel like giving up at times, you are probably not doing a high value activity.
Pray for the Lord to show you something that will drastically change your life if you start now, and continue being consistent in developing it, in the years to come.
Then start doing it now.
CONFESSION
I am full of the wisdom and strength of Christ. I do not waste my time of things that would not bring me value and increase in life. I give my best to high-value activities, and I am getting the blessing of increase in every area of my life, in Jesus Name.
MORE LIGHT (MEDITATE ON, AND PRAY WITH THESE)
Proverbs 13:4 ESV The soul of the sluggard craves and gets nothing, while the soul of the diligent is richly supplied.
Titus 2:7 Show yourself in all respects to be a model of good works, and in your teaching show integrity, dignity.
Proverbs 10:4 ESV A slack hand causes poverty, but the hand of the diligent makes rich.
Proverbs 22:29 ESV Do you see a man skillful in his work? He will stand before kings; he will not stand before obscure men.
Check below for more interesting articles
Kindly share, and you'll be blessed. God bless you.