Strength is Yours!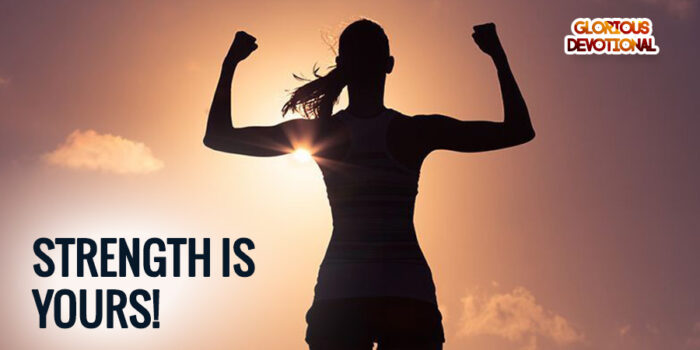 Wednesday 15th March 2023
For I know the thoughts that I think toward you, says the LORD, thoughts of peace and not of evil, to give you a future and a hope. Jeremiah 29:11
The Bible assures us in the verse above that the Lord Himself has decided to give us hope, no matter what.
But hope gives us something very important, according to the Word – it gives us strength.
But those who wait [hope] on the LORD Shall renew their strength; They shall mount up with wings like eagles, They shall run and not be weary, They shall walk and not faint. Isaiah 40:31
Hallelujah… Hope gives you strength!
Hope (strength) is so important.
Life favors the strong. If you ever have any 2 choices, it's always better to take the path of strength. Life puts the weak at a disadvantage. The strong are always at an advantage. Always choose strength.
When you have hope, you are strong. When you do not have hope, you are weak. The Bible tells us:
And David was greatly distressed; for the people spake of stoning him, because the soul of all the people was grieved, every man for his sons and for his daughters: but David encouraged himself in the LORD his God. 1 Samuel 30:6
There are 2 major types of strength: strength that can carry more, either physically, mentally, emotionally or spiritually.
The 2nd type of strength is perseverance.
A strong person is a dangerous person. No matter the type of strength. If you can carry more, or do more, lift or push more, you are more dangerous to your enemies. But also, even if you don't do so much, even if you do not feel so strong,, but you refuse to ever give up, you keep on persevering; you are also an extremely dangerous person to the enemy.
There is nothing you can do to stop a Christian who refuses to give up. When you are in Christ, there is something He does for you. He protects your life. There is only one way to stop a man who will not give up, and it is death. But your life is hid with Christ in God (Col 3:3), and no death can touch you, hallelujah!
There is nothing you can do to stop a Christian who got his hope from God – and our opening verse, Jeremiah 29:11 says we already are assured of hope from God, glory!
The major target of the devil for attacking your finances, health, peace, relationships, etc, is not really to get the money, health, etc, but to make you weak, and lose faith, hope and love. A strong Christian who has hope is a dangerous Christian. A weak Christian is not a threat to the devil. That's why he attacks your hope.
As long as you have strength/hope to hold on to God then you can easily add the Word of God and faith to receive anything from God!
Give the Lord praise for giving you hope and strength! Give him glory that your strength is renewed like the eagles in Jesus Name!
CONFESSION
I praise You my Father, that you have promised me plans that give me a future and a hope. I confess that I am full of hope and strength from your Word! I am strong in the Lord, and in the power of His might. I am conquering my challenges and am winning in every part of my life because you have made me strong, in Jesus Name, hallelujah!
MORE LIGHT (MEDITATE ON, AND PRAY WITH THESE)
Philippians 4:13 I can do all things through Christ which strengtheneth me.
2 Samuel 22:40 For thou hast girded me with strength to battle: them that rose up against me hast thou subdued under me.
Isaiah 41:10 Fear thou not; for I [am] with thee: be not dismayed; for I [am] thy God: I will strengthen thee; yea, I will help thee; yea, I will uphold thee with the right hand of my righteousness.
Joshua 1:5 There shall not any man be able to stand before thee all the days of thy life: as I was with Moses, [so] I will be with thee: I will not fail thee, nor forsake thee.
Check below for more interesting articles.
Kindly ask questions, etc in the comment box below.
Be blessed as you share. God bless you.