Prayer and Work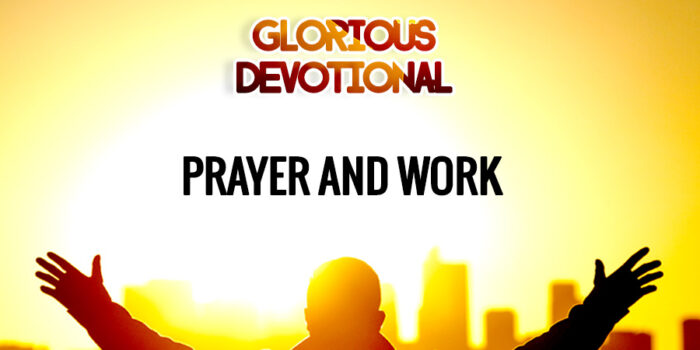 PRAYER AND WORK
Wednesday 11th January 2023
'Now unto him that is able to do exceeding abundantly above all that we ask or think, according to the power that worketh in us, ' Ephesians 3:20
Our theme verse lets us know that, as Christians, the Lord is able to do exceedingly above anything we ask of Him, or even that we think.
In other words, once we ask anything of the Lord, or even as much as think or dream about it, the ability to do it is immediately made available by God.
However, though God has already made the ability available, we can only bring our thoughts and dreams to manifestation through PRAYER AND WORK.
The Bible tells us that prayer opens doors – Colossians 4:3. It also tells us that faith and prayer without work is dead – James 2:17.
When you put these two things firmly in place, with the Word of God at the top of all, you can achieve anything you desire.
Luke 1:37 For nothing is impossible with God.
Through prayer, we connect to the God of all possibility, and through work, we apply God's power provided in the place of prayer to bring about our manifestation, hallelujah.
No matter where you are in life right now, your dreams are valid. God can help you bring them to pass. What you have to do is to make sure you never shy away from prayer and hardwork.
CONFESSION
I am strong in the Lord and in the power of His might. The Lord is my shepherd, and I do not want. I am a spiritual and physical warrior, and I win always in Christ who is my stronghold. I am not weak. I walk in faith and virtue, increasing spiritually, physically and in all areas of my life, in Jesus mighty Name.
MEDITATE ON THESE
Matthew 19:26 But Jesus looked at them and said, "With man this is impossible, but with God all things are possible."
Philippians 4:6 Do not be anxious about anything, but in everything by prayer and supplication with thanksgiving let your requests be made known to God.
John 15:7 If you abide in me, and my words abide in you, ask whatever you wish, and it will be done for you.
Proverbs 16:3 Commit your work to the Lord, and your plans will be established.
Proverbs 14:23 In all toil there is profit, but mere talk tends only to poverty.
Check below for more interesting articles
Kindly share, and you'll be blessed. God bless you.