He Prepares a Table for You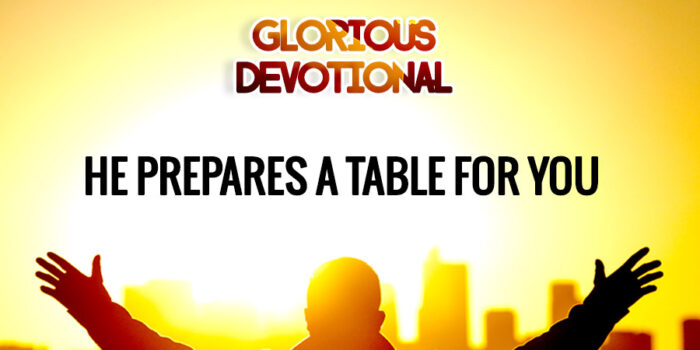 HE PREPARES A TABLE FOR YOU
Thursday 5th January 2023
'Thou preparest a table before me in the presence of mine enemies: Thou anointest my head with oil; my cup runneth over. ' Psalm 23:5
When we read this verse, what comes to our mind first is that the Lord will prepare a table of blessings for us, and make all our enemies unable to try anything against us again.
However, what it actually means is that the Lord would keep blessing you and lifting you up, even though your enemies are still there wanting to attack you. They would not suddenly vanish away or suddenly decide to stop coming against you: but with the Word and prayer, they would not be able to do anything serious to you anymore..
They can try, in fact sometimes, it might even seem like they have gotten you, but the Lord would always show up if you persevere.
No matter what you are going through right now, if you persevere, in speaking the Word and prayer, the Word will always put you over, for 'Greater is He that is in you, than he that is in the world', hallelujah! – 1 John 4:4.
CONFESSION
I am more than a conqueror in Christ, for the greater One lives in me. I know who I am. I am blessed, and I always walk in dominion. I always win, and I know what to do in all situations, for I walk constantly in the wisdom and power of God. I am blessed in my going out and my coming in. I'm blessed in my body and my health, in Jesus mighty Name, Amen.
MORE LIGHT
Romans 8:37 No, in all these things we are more than conquerors through him who loved us.
1Co 15:57 But thanks be to God, which giveth us the victory through our Lord Jesus Christ.
2Co 2:14 Now thanks be unto God, which always causeth us to triumph in Christ, and maketh manifest the savour of his knowledge by us in every place.
1Jo 5:4-5 For whatsoever is born of God overcometh the world: and this is the victory that overcometh the world, even our faith. Who is he that overcometh the world, but he that believeth that Jesus is the Son of God