Not Enough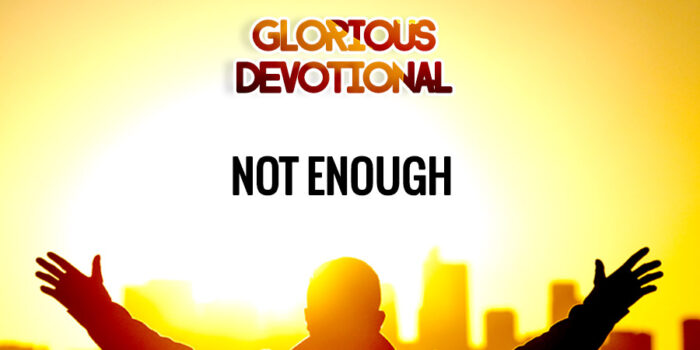 NOT ENOUGH
Wednesday 4th January 2023
'And he spake a parable unto them to this end , that men ought always to pray, and not to faint; ' Luke 18:1
On a certain day, Jesus taught the people why it was so important to pray always. What he said can basically be summarised as, 'Prayer is never enough'.
Sometimes, we feel we have prayed so much that it's definitely enough now, and we need can take a break, or even a vacation, from prayer.
However, the Bible tells us in 1 Peter 5:8 – 'Be sober, be vigilant; because your adversary the devil, as a roaring lion, walketh about, seeking whom he may devour: '
The devil never rests in trying to discourage, weaken, anger or distract us. This is why we ourselves cannot stop being active in the place of prayer and intercession.
He is constantly seeking ways to thwart the plan of God for us, so we must never give him any chance to do that – our prayer life must be a daily habit, for us to have constant victory in life.
Jesus has already won our victory for us on the cross of Calvary, but we must enforce it in the place of prayer.
Prayer is not a nice thing to do for a Christian. It is a daily must.
CONFESSION
I am full of spiritual strength and passion for prayer. My passion for prayer and the things of the Spirit are increasing by the day. I am filled with the Spirit of grace, supplication and intercession, in the Name of Jesus. I am very diligent in my prayer life. I make decrees, and they are coming to pass quickly, in Jesus mighty Name.
MORE LIGHT
1 Thessalonians 5:17 Pray without ceasing
Ephesians 6:18 ESV Praying at all times in the Spirit, with all prayer and supplication. To that end, keep alert with all perseverance, making supplication for all the saints,
Luke 18:7-8 'And shall not God avenge his own elect, which cry day and night unto him, though he bear long with them? I tell you that he will avenge them speedily. Nevertheless when the Son of man cometh, shall he find faith on the earth? '
Colossians 4:2 Continue steadfastly in prayer, being watchful in it with thanksgiving.
Kindly share, and you'll be blessed. God bless you.