You Can Do It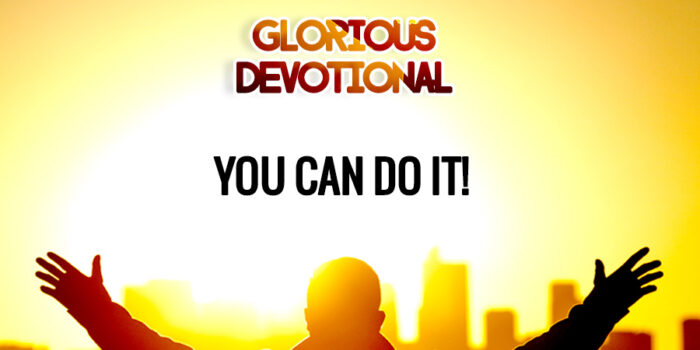 YOU CAN DO IT
Tuesday 10th January 2023
Ye are of God, little children, and have overcome them: because greater is he that is in you, than he that is in the world. 1 John 4:4 KJV
Most of the time, when people reach a certain age, they start giving up on things.
The reasons they give themselves is that it's either too late, I don't have anyone to help me do it, I'm too old for that, I don't have the money or capital, or they are just generally distracted by challenges.
As Christians however, even though life throws up extremely tough challenges at us, the Bible says, Greater is He that is in us, than he that is in the world'
The Bible says that the Lord is "able to do exceeding abundantly above all that we ask or think, according to the power that worketh in us" – Ephesians 3:20
In other words, as a Christian, once you think it, the Lord makes it possible. What remains is two things: Prayer and Work. With these things, you will get your manifestation.
The Bible says that all things work together for good for those who love God, and who are called according to His purpose – Romans 8:28. Everything would work together for your good. Just show that you actually love God in any way He leads you, and be called to obey His purpose in your life, by His Word.
When this is in place, that situation would soon turn around for your good, praise God!
CONFESSION
I am more than a victor, I am more than a conqueror in Christ. Jesus has overcome the world for me. Whatsoever I lay my hands to do shall prosper, for greater is He that is in me than he that is in the world. Even though the challenges are much, Jesus is with me, and He will lead me out, victoriously. I shall win always, and give Him glory forevermore, hallelujah!
MEDITATE ON THESE
Philippians 4:13 I can do all things through him who strengthens me.
1Jo 5:4 For whatsoever is born of God overcometh the world: and this is the victory that overcometh the world, [even] our faith.
Ro 8:37 Nay, in all these things we are more than conquerors through him that loved us.
John 16:33 I have said these things to you, that in me you may have peace. In the world you will have tribulation. But take heart; I have overcome the world."
1 Corinthians 15:57 But thanks be to God, who gives us the victory through our Lord Jesus Christ.
Kindly share, and you'll be blessed. God bless you.
Check below for more interesting articles