Make Your Choice!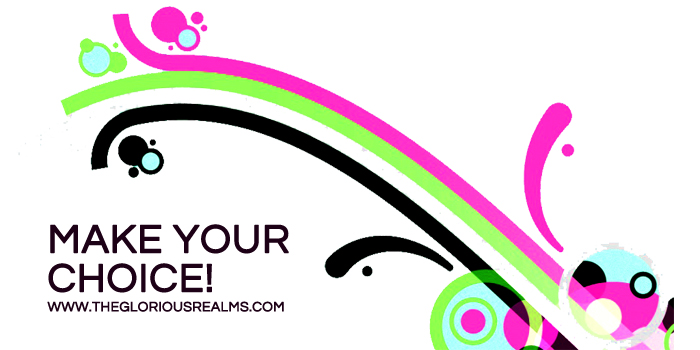 Your life is formed from the decisions you make, your choices. And you get to choose the important issues in life. In life we have options and you get to choose what you want: and the decisions you make can either build you up or destroy you.
God has presented us with another option, 'Life'. Before Christ died, man only had one option and that was death. So you are to make your choice.
But it doesn't stop there, the important things in life are optional, you choose just like you choose the clothes you wear every day. I got a bad new yesterday about a friend of mine that had an accident and broke his legs. And I thought within me, the only option I have now is to be sad because something bad has happened. But a question popped in my head; 'What is your choice?'.
The Spirit of God made it so clear that even in this situation; I still have an option of joy and happiness. So I was to choose either to be sad or to hold on to my joy! You see, life is spiritual, things happen in our lives every day and we think we have no options but the one we can clearly see. Faith is not in seeing. Faith is in believing and the just shall live by faith. When Apostle Paul said in Romans 8:37,"Nay, in all these things we are more than conquerors….", that was not the only option he had. If you read the other verses you will see that they were persecuted, he didn't choose to be weak, or cry, or be sad. He spoke faith, he said his belief! He didn't say 'In all these things we are slowly dying' he said 'We are more than conquerors!'.
Do not let the devil steal from you; don't be ignorant of his devices. Make the right choice now. I decided to be happy not because my friend broke his legs but because my joy is in Christ and Christ is in God, above all sorrows and pain, nothing can get to it there! So I'm always happy.
See, you decide what you want to see, what you want to feel and how you want your life to be. The most important things in life are options: you choose to be happy or sad, you choose to be strong or weak, you choose to love or hate, you choose to forgive or be angry… These things are what build you when you choose correctly or destroy you when you choose wrongly. You may ask "If I choose to be happy when a bad thing happens, what good will it do?" Let me tell you, it shows that you have faith in God, it will make you happy and the devil will be disappointed, and that joy in your soul will cause ways to open for you, it brings solutions. Then you can pray not with fear or sadness in your heart but with faith and joy and make declarations, 'affliction will never rise again'. Hallelujah! "
…I have set before you life and death, choose life, that both you and your seed may live (Deuteronomy 30:19)
CONFESSION:
Thank you Father for the gift of life in Christ. I choose to make the right choices. I choose strength and not weakness, I choose to move forward in life, I choose to be happy, I choose to love, I choose to praise God all my days, I choose Life, and I am moving forward mightily in life as a result, in Jesus' Name! Thank you Lord!
Thanks to Leal Ibizugbe Itohan for this.