Kings and Priests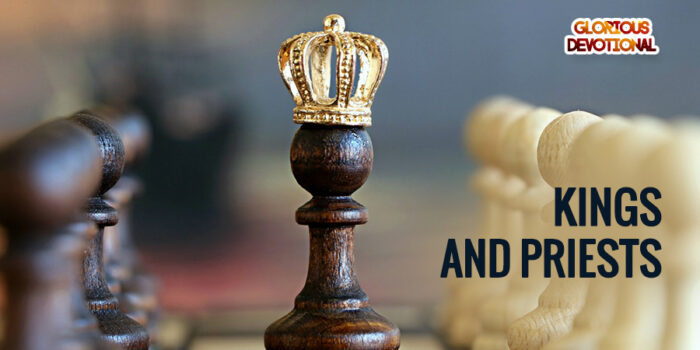 Monday 6th March 2023
'Then God said, "Let Us make man in Our image, according to Our likeness; let them have dominion … over all the earth." ' Genesis 1:26
When the Lord wanted to make man, He stated His singular purpose for making Him. He made him to have dominion over all the earth.
The reason God made man was for man to be His eternal companion, exercising dominion and authority on His behalf in the earth and in the universe.
We are called to be eternal companions for God, and to walk in dominion while doing so.
'And has made us kings and priests to His God and Father, to Him be glory and dominion forever and ever. Amen.' Revelation 1:6
You have been called to be a king and a priest. A king walking in dominion, and a priest who is addicted to God's presence, prayer, and to obedience to God. A priest who is always full of the Word of God.
A king over diseases, and poverty, failure and disappointments. A king over money, business and in your economy. A king who always speaks decrees, and has them coming to pass. A king who is always full of the Word of God, and speaking it as decrees!
'Where the word of a king is, there is power; And who may say to him, "What are you doing?"' Ecclesiastes 8:4 NKJV
Let's consider Adam quickly. Before he fell by disobedience. He was living in dominion.
Adam was in the garden with wild animals, lions, tigers,bears, etc, and never had any issues with them, because he walked in dominion before he fell. It is not strange that Jesus walked on water and spoke to the storm and they obeyed. He was the second Adam – 1 Corinthians 15:45-49 – and he walked in dominion just like Adam did before he fell.
The meaning of Adam is 'son of red earth'.
1 Corinthians 15:45-49
And so it is written, "The first man Adam became a living being." The last Adam became a life-giving spirit. However, the spiritual is not first, but the natural, and afterward the spiritual. The first man was of the earth, made of dust; the second Man is the Lord from heaven. As was the man of dust, so also are those who are made of dust; and as is the heavenly Man, so also are those who are heavenly. And as we have borne the image of the man of dust, we shall also bear the image of the heavenly Man.
You are made after the image of the second man, the second Adam, Jesus, who is the Lord from heaven, hallelujah!
You were made to reign and to rule, glory to God!
CONFESSION
I am made in the image of Jesus, to be a king and a priest. I reign in the affairs of life. I am more than a conqueror in life, and I am blessed in everything I do and everywhere I go. I live in dominion in Christ, and I reign in everything that concerns me in Jesus Name, Amen!
MORE LIGHT (MEDITATE ON, AND PRAY WITH THESE)
1 Peter 2:9 But ye are a chosen generation, a royal priesthood, an holy nation, a peculiar people; that ye should shew forth the praises of him who hath called you out of darkness into his marvellous light.
Luke 10:19 Behold, I give unto you power to tread on serpents and scorpions, and over all the power of the enemy: and nothing shall by any means hurt you.
Psalm 82:5-6 They know not, neither will they understand; they walk on in darkness: all the foundations of the earth are out of course. I have said, Ye are gods; and all of you are children of the most High.
Isaiah 61:6 But you shall be called the priests of the Lord; they shall speak of you as the ministers of our God; you shall eat the wealth of the nations, and in their glory you shall boast.
Check below for more interesting articles
Kindly share, and you'll be blessed. God bless you.