Thanksgiving Transforms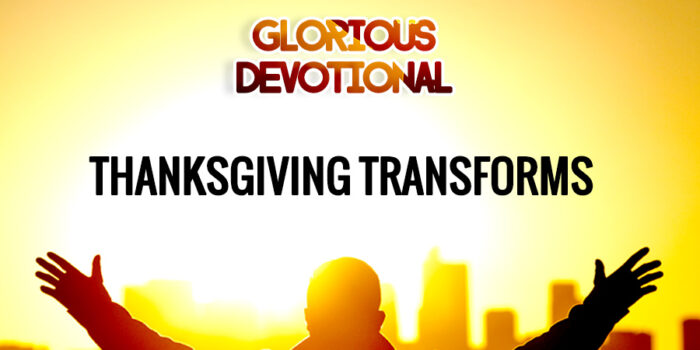 THANKSGIVING TRANSFORMS
Wednesday 25th January 2023
'Be anxious for nothing, but in everything by prayer and supplication, with thanksgiving, let your requests be made known to God; and the peace of God, which surpasses all understanding, will guard your hearts and minds through Christ Jesus.' Philippians 4:6-7
The Bible tells us in our theme verse that thanksgiving can transform you from the state of anxiety to the state of peace and joy.
Physics teaches that a matter is usually in various possible positions at the same time. The exact position it turns out being in is determined when you observe it (look at it). This is a basic principle in quantum physics, one of the major branches of physics.
In the same way, because we are made of matter, according to physics, we are not in just one possible position or circumstance at a time. We determine our particular position from where we OBSERVE it, or our PERSPECTIVE.
Thanksgiving changes perspective from the realm of impossibility, another name for which is the carnal realm: to the realm of possibilities, another name for which is the heavenly, hallelujah.
This is why the Bible says in Psalm 100:4 Enter his gates with thanksgiving, and his courts with praise!
Thanksgiving gives you sudden access into the realm of the heavenly, and the power available there.
This is why the Bible also says 'Be anxious for nothing … but with thanksgiving let your requests be made known to God; and the peace of God will guard your heart and mind through Christ Jesus.
With thanksgiving, the peace of God will suddenly guard your heart, and give you solutions and miracles, instead of stress and anxiety, hallelujah!
CONFESSION
Father, I thank you for being good to me. You have kept me alive and protected. You have fought invisible battles for me, and I am full of thanksgiving and appreciation to you forever in Jesus Name. I receive even more blessings from your bounty, and your peace that guards my mind and keeps me excelling in life, just like your Word says, in Jesus Name. Amen
MORE LIGHT (MEDITATE AND PRAY WITH THESE)
Ephesians 5:20 Giving thanks always and for everything to God the Father in the name of our Lord Jesus Christ.
Hebrews 13:15 Through him then let us continually offer up a sacrifice of praise to God, that is, the fruit of lips that acknowledge his name.
2 Corinthians 2:14 But thanks be to God, who in Christ always leads us in triumphal procession, and through us spreads the fragrance of the knowledge of him everywhere.
1 Thessalonians 5:18 Give thanks in all circumstances; for this is the will of God in Christ Jesus for you.
Check below for more interesting articles
Kindly share, and you'll be blessed. God bless you.