The GOAL for Victory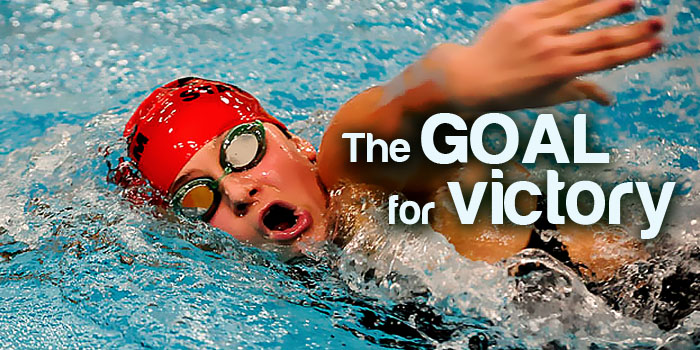 When she looked ahead, Florence Chadwick saw nothing but a solid wall of fog. Her body was numb. She had been swimming for nearly sixteen hours.
Already she was the first woman to swim the English Channel in both directions. She had managed to finish that swim in a record time, 16 hours and 22 minutes on August 8, 1950. Now, at age 34, her goal was to become the first woman to swim from Catalina Island to Palos Verde on the California coast.
On that Fourth of July morning in 1952, the sea was like an ice bath and the fog was so dense she could hardly see her support boats. Against the frigid grip of the sea, she struggled on – hour after hour – while millions watched on national television.
Alongside Florence in one of the boats, her mother and her trainer offered encouragement. They told her it wasn't much farther. But all she could see was fog. They urged her not to quit. She never had . . . until then. With only a half mile to go, she asked to be pulled out.
Still thawing her chilled body several hours later, she told a reporter, "Look, I'm not excusing myself, but if I could have seen land I might have made it." It was not fatigue or even the cold water that defeated her. It was the fog. She was unable to see her goal.
Two months later, she tried again. This time, despite the same dense fog, she swam with her faith intact and her goal clearly pictured in her mind. She knew that somewhere behind that fog was land – and this time she made it!
Florence Chadwick became the first woman to swim the Catalina, eclipsing the men's record by two hours!
Hab 2:2 And the LORD answered me, and said, Write the vision [goal], and make it PLAIN upon tables, that he may RUN that readeth it.
The Bible lets us know that without the clarity of a goal to tell us exactly where we are going, we might never be able to run properly in life.
A goal is a written plan with clear targets. Clearly written goals energize us like almost nothing else can.
The Bible has this to say about goals and plans:
"The plans of the diligent lead to profit" (Proverbs 21:5).
When where we are going is very clear, we surprisingly ALWAYS find in ourselves all the strength we need to get there. This is the power of the written goal that the Word talks about. Until you have written down your major long term and medium term goals (with one each set as the MAJOR one), you would keep going round in circles, wondering what is wrong with you: blaming your relatives, enemies, the government … and so on.
When you become very clear about what you want to achieve and how you want to achieve it, your life takes on a whole new meaning…
Good luck setting your goals today.