You Can Still Do It!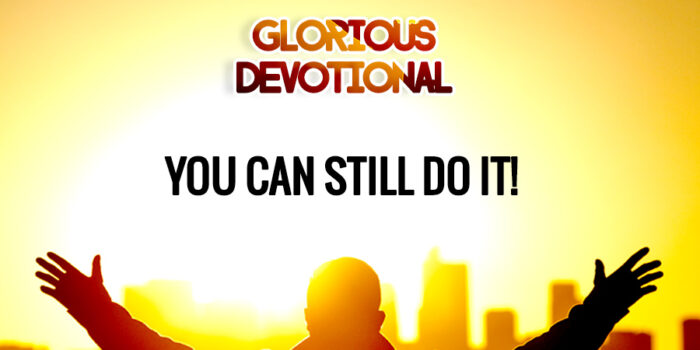 YOU CAN STILL DO IT!
Friday 20th January 2023
'I can do all things through Christ which strengtheneth me.' Philippians 4:13
As the year gets underway, the time has changed from when we excitedly set our goals, to when we come face to face to what it would actually take to accomplish them. This is the part that can feel very difficult. It can be dull, tough, and very challenging to actually follow up on our decisions as the year goes on.
At this time, the easiest thing is to start feeling that this is not possible, and that we might not be able to accomplish what we have decided to do this year. Our strength and excitement starts going down, and the resolve is not strong like it used to be.
However, the Bible says that you (yes, you), can do all things through Him who strengthens you..It says you are a WORLD overcomer (1 John 5:4), so you can do this!
Here are some tips to successfully accomplishing your goals for this year:
Make sure you didn't push yourself too far in fixing your daily routine. It's better to start small, and be CONSISTENT with it, then consider increasing it later when you are more sure of yourself, than to fix it too large and give up too soon

Work on yourself to become better with time management. The way you discipline yourself and manage your time will go a long way to determining how far you will go in accomplishing your goals this year. Make sure you work on it…

Confess the Word. Gather verses that talk about strength, and speak them into your life everyday. The Word of God is full of power to give you strength to keep focused and keep doing what you need to do, in order to accomplish your goals.

Make sure your goals have a spiritual confirmation. If there is no spiritual back up, you can go round for years trying to accomplish something, and still there would be issues. Take out time to spend with the Lord, and try to get a confirmation for things you have decided to do, and your direction for the year.
For I know the plans I have for you," declares the LORD, "plans to prosper you and not to harm you, plans to give you hope and a future. Jeremiah 29:11
In all, remember that the Lord is with you. The Bible says he has plans to prosper you. He is actively working to bring your success and prosperity to pass. Stick with Him, and you will definitely succeed in Jesus Name.
CONFESSION
Thank you Jesus. I am filled with strength for exploits. I am full of the grace of God to do much and make surprising strides this year. I am moving forward mightily in the realm of the spirit, and in the physical. I am more than a conqueror in everything that concerns me, and I will win and excel this year, to the glory of God, in the Name of Jesus.
MORE LIGHT (MEDITATE AND PRAY WITH THESE)
Isaiah 41:10 Fear not, for I am with you; be not dismayed, for I am your God; I will strengthen you, I will help you, I will uphold you with my righteous right hand.
Deuteronomy 31:6 Be strong and courageous. Do not fear or be in dread of them, for it is the Lord your God who goes with you. He will not leave you or forsake you."
Ephesians 6:10 Finally, be strong in the Lord and in the strength of his might.
Isaiah 40:31 But they who wait for the Lord shall renew their strength; they shall mount up with wings like eagles; they shall run and not be weary; they shall walk and not faint.