How To Break the Worry Habit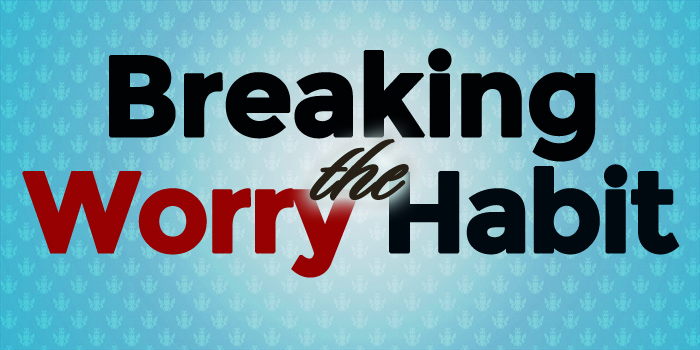 Kenneth Hagin
Did you know that it is a sin to worry and that worry will also hinder your faith? God doesn't want us to worry. He wants us to be free from worry. He doesn't want us bound by any kind of a habit.
Worry was the hardest sin I ever gave up. Did you know that it is a sin to disobey God's Word? To worry is to disobey the Word. Worry is a much worse habit than the tobacco habit. Tobacco will just half kill you but worry will completely kill you! A fellow who uses tobacco is just half alive while he lives. He can't taste anything because he has that terrible taste of tobacco in his mouth and his sense of taste is dull. And he can't smell anything because he stinks so bad himself! If he could smell, he would quit using that nasty tobacco! A tobacco user really doesn't enjoy life to its fullest because he goes through life about half dead. Doctors themselves admit that. But doctors will also tell you that worry will kill you too.
A doctor came out to my house one time when I was bedfast and talked about forty five minutes to me. He asked me if any of the other doctors on my case had ever told me just what was wrong with me, and I told him no, they hadn't. He said that he believed in telling people exactly what was wrong with them and that he was going to tell me. He took out a prescription pad and on it he wrote seven medical terms. This was in 1933. He said that at that time there were seven serious organic heart troubles known to medical science and that out of these seven, I had two of them.
This doctor went on to tell me that I was born that way. He said I had a deformed heart and that I was also deformed throughout my entire chest area. My blood was pale and watery. He said my white corpuscles were destroying the red ones faster than the red ones could be rebuilt. My body had been almost completely paralyzed. I could use my arms a little bit.
This doctor said there was nothing that could be done for me and that I should stay ready to go. He told me not to worry about anything and not to get angry or excited in any way. He said if, for example, anything exciting happened out on the street, I wasn't to look out my window to see what was happening, because I might get too excited and die. This doctor went on to say that worry could kill a person. I suppose he could detect that my mother and grandmother were worriers, and that I was worrying because I didn't know exactly what was wrong with me. When he left, after telling me not to worry, God started dealing with me about my sin of worrying. I began to get under conviction about it.
I tell people now that I'd just as soon cuss as worry. Both are sins and we ought not to do either. About 6:00 in the evening I finally told the Lord that I wouldn't worry anymore. I told Him that I would practice what I read in His Word. All the scriptures I had been reading in the New Testament up to Matthew chapter 6 had been light to me. But after I had the revelation about worrying in Matthew 6, but didn't obey it, God's Word had become dark again. God's Word must be acted upon!
I decree that my heart is full of the Word of God. The lines are fallen unto me in pleasant places. I have a goodly heritage. I will win in all the affairs of my life right now. I live in rest, glory, peace, success and the awesome Wisdom of God, hallelujah!
I am am always full of great Joy and Success, Hallelujah!!!
I decree that joy and success shall never cease from your life, as from today in Jesus mighty Name.
When it seems you are are down to nothing, then know that certainly God is up to something! Job 22:29
Because the Word of God is ALWAYS true, we can NEVER shake…!
God bless you.