He is with You!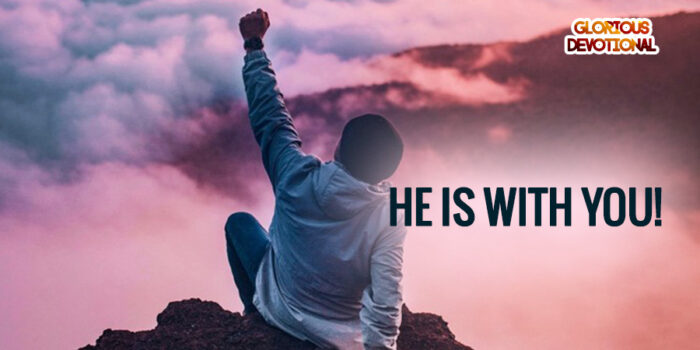 Wednesday 1st March 2023
In that situation … the Lord's hand is not too short to help you. His eyes are not short sighted to see you. His love is not so cold as to not help you out. His feet and power are not too slow not to be there on time. He would be there for you!
When we go through challenging situations, it is very easy sometimes to forget that God has promised us rest all around us. However, this is a fact. What the devil wants is for us to forget this and start getting carnal.
This is wrong to do though, as the Lord promises us salvation every time, and in every situation!
The Bible says:
Isa 49:13-16 Sing, O heavens; and be joyful, O earth; and break out into singing, O mountains; for the Lord has comforted His people, and will have mercy on His afflicted. But Zion said, Jehovah has forsaken me, and my LORD has forgotten me. Can a woman forget her suckling child, that she should not have compassion on the son of her womb? Yes, they may forget, yet I will not forget you. BEHOLD, I HAVE CARVED YOU ON THE PALMS OF MY HANDS; your walls are forever before Me.
No! The Lord CANNOT forget you! The Bible says 'Like as a father pitieth his children, so the LORD pitieth them that fear him.' Ps 103:13.
The Lord would have mercy on you. He would bring things your way when you don't even expect it. The glory of the Lord is yours!
Ro 11:29 For the gifts and calling of God are without repentance.
– Once the Lord promises you something, He will NEVER repent or turn His back on it, hallelujah
So, be strong, even as you start a new month today. It will be a month of NEW GRACE for you. I prophesy that the Lord shall absolutely surprise you this month. He will bless you in such a way that others would be absolutely shocked. Mark this day.
God bless you…
CONFESSION
I am the beloved of God, therefore I am mightily helped of God! I am a winner always. I reign in life. My prayer points have become praise points because I know they have been answered. I am more than a conqueror in everything that concerns me! I win in all pressing situations, in the Name of the Lord Jesus Christ!
MORE LIGHT (MEDITATE ON, AND PRAY WITH THESE)
Isaiah 41:13 ESV For I, the Lord your God, hold your right hand; it is I who say to you, "Fear not, I am the one who helps you."
Isaiah 41:10 ESV Fear not, for I am with you; be not dismayed, for I am your God; I will strengthen you, I will help you, I will uphold you with my righteous right hand.
1 Peter 5:7 Casting all your care upon him; for he careth for you.
Psalm 91:1-4 He that dwelleth in the secret place of the most High shall abide under the shadow of the Almighty. I will say of the LORD, He is my refuge and my fortress: my God; in him will I trust. Surely he shall deliver thee from the snare of the fowler, and from the noisome pestilence. He shall cover thee with his feathers, and under his wings shalt thou trust: his truth.
Kindly share, and you'll be blessed. God bless you.
Check below for more interesting articles