As He Is, So We Are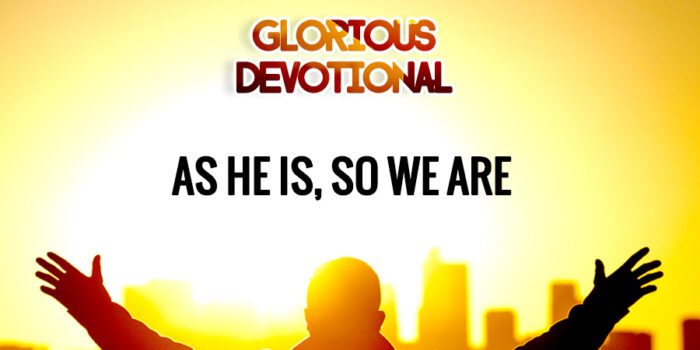 AS HE IS, SO WE ARE
Friday 29th December 2022
'Love has been perfected among us in this: that we may have boldness in the day of judgement; because as He is, so are we in this world. ' 1 John 4:17
The Bible tells us that as Jesus is, so we are in this world. It also tells us our destiny is to be in the image of Jesus, the Son of God:
Romans 8:29-30 'For whom He foreknew, He also predestined to be conformed to the image of His Son, that He might be the firstborn among many brethren.
As our theme verse says, as Jesus is, so are we in this world.
This is amazing, but it is what being a Son of God means. We have watered down the meaning of this profound statement over the years as Christians. The Jews were more in touch of what it really implied. That was the major reason they sought to kill Jesus, because He said He is the Son of God:
'The Jews answered him, We have a law, and by our law he ought to die, because he made himself [a] Son of God. ' John 19:7
Now, we know we are the Sons of God (Galatians 3:26), but we have lost the power, the implication of this truth. It means simply, that we are just like Jesus, and like our Father God on the earth, just like our theme verse says.
'Therefore the Jews sought the more to kill him, because he not only had broken the sabbath, but said also that God was his Father, making himself equal with God. ' John 5:18
We need to know that, as Christians, we have the power of divinity at work in us. We have been given the unique opportunity to walk in the power and grace of God Himself on the earth.

However, this power will manifest only to the extent that we can walk with Jesus by total surrender, believing and speaking the revelation of His Word, daily study of the Word, prayer, and other spiritual activities.
But this is what you are already now. Rejoice, for as Jesus is, so you are on the earth!
CONFESSION
I am walking in the light of who the Lord has made me. I am just like Jesus on the earth, and I walk in victory and power in everything that concerns me because of this. I know who I am, and I am more than a conqueror in my health, my finances, my marriage and my career in Jesus Name.
MORE LIGHT
Col 3:10 And have put on the new man, which is renewed in knowledge after the image of him that created him:
2Pe 1:4 Whereby are given unto us exceeding great and precious promises: that by these ye might be partakers of the divine nature, having escaped the corruption that is in the world through lust.
1Jo 3:2 Beloved, now are we the sons of God, and it doth not yet appear what we shall be: but we know that, when he shall appear, we shall be like him; for we shall see him as he is.
2Co 3:18 But we all, with open face beholding as in a glass the glory of the Lord, are changed into the same image from glory to glory, even as by the Spirit of the Lord.
Kindly share, and you'll be blessed. God bless you.