Anger, Fear, Discouragement – Hope Faith Love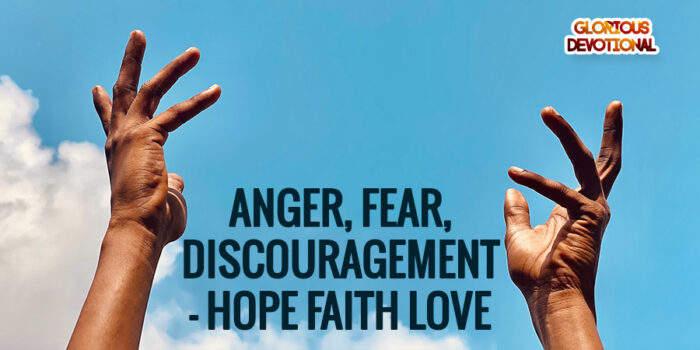 Thursday 2nd March 2023
'And now abide faith, hope, love, these three; but the greatest of these is love.' 1 Corinthians 13:13
In this passage of scripture, the writer did not actually mean that faith and hope do not matter, and that only love matters. Faith and hope are actually important, and every one of the three has its very key role in our lives
Let's consider hope.
Romans 12:12 ESV Rejoice in hope, be patient in tribulation, be constant in prayer.
Hope is powerful. It gives us the strength to rejoice, even in tribulation and challenges. It gives us the ability to bear through challenges. When the Bible talks about waiting on the Lord, it is talking about hope.
'But those who wait on the Lord Shall renew their strength; They shall mount up with wings like eagles, They shall run and not be weary, They shall walk and not faint.' Isaiah 40:31
Hope is that powerful. The opposite of hope is discouragement, despair. The loss of hope is the cause of depression. When someone is depressed or suicidal, it's because they don't have hope.
Hope strengthens us to wait on the Lord. But it does not receive the manifestation from the Lord.
It is faith that receives our manifestation from the Lord.
'Now faith is the substance of things hoped for, the evidence of things not seen. Hebrews 11:1
The Bible says faith is the substance of things hoped for. Hope puts your manifestation in the future. Faith makes it now (NOW FAITH). Hope wants you to wait for your answer. Faith says the Lord has already answered, and that you should thank Him for it. When you have hope, you wait on the Lord. When you have faith, you receive your answer in the spirit, and confess and thank Him in the physical.
Faith is when your hope gets substance. Physical substance – Faith is the substance of things hoped for (Heb 11:1). Hope + Physical substance = Faith.
Both hope and faith believe, but when you receive and add physical action, confession, and thanksgiving to our belief, you now have faith. Faith is what receives from God. Hope does not receive, except by grace.
Glory to God.
The opposite of faith is fear, and it is a killer. God works miracles for us through faith in our hearts, and the devil destroys things around us through fear. Faith is a must have for a child of God.
The final one is LOVE. The Bible says even though the rest are so important, the greatest of them is love. God gives us hope, and God is a faith God. But God is not hope or faith. God is love (1 John 4:8,16).
Wow…
Even faith works (makes us receive) through love (Galatians 5:6).
Hope gives us strength to wait, faith gives us what we are waiting for, but love is the whole reason we are waiting.
It is love that gives our lives a meaning and a direction. It puts our lives and everything else together. Hope gives us strength to wait – because we love God, and we know He loves us. Faith gives us what we are hoping for – through love. Hallelujah.
The opposite of love is anger, bitterness and hatred. The lack of real love is the cause of basically all the evil done by man against each other.
When you are angry and bitter at someone, it eats away at you, and affects you more than that person. Bitterness and anger cause spiritual and physical cancer.
Hope Faith Love
Lack of hope faith and love causes despair, fear and anger. These open doorways for the devil to bring oppression, disease, and all sorts of issues into our lives. When people have long-time challenges, it is usually because of a lack of hope, faith or love.
However, we can get all three of them from studying and speaking the Word of God!
Start studying the Word more, and get your physical, emotional and spiritual healing from hope, faith and love!
CONFESSION
I am full of hope, faith and love from the Word of God. I am encouraged and strengthened by the Lord. I am full of grace and blessings from the Word. I curse every spirit of anger, discouragement, fear, hatred, bitterness and doubt in my heart. I am full of faith, love and hope. I wait on the Lord, and my blessing comes, in Jesus mighty Name, Amen.
MORE LIGHT (MEDITATE ON, AND PRAY WITH THESE)
Romans 15:13 ESV May the God of hope fill you with all joy and peace in believing, so that by the power of the Holy Spirit you may abound in hope.
Matthew 21:22 ESV And whatever you ask in prayer, you will receive, if you have faith."
1 Corinthians 13:4-8 ESV Love is patient and kind; love does not envy or boast; it is not arrogant or rude. It does not insist on its own way; it is not irritable or resentful; it does not rejoice at wrongdoing, but rejoices with the truth. Love bears all things, believes all things, hopes all things, endures all things. Love never ends. As for prophecies, they will pass away; as for tongues, they will cease; as for knowledge, it will pass away.
1 Peter 4:8 ESV Above all, keep loving one another earnestly, since love covers a multitude of sins.
Kindly share, and you'll be blessed. God bless you.
Check below for more interesting articles