Divine Health is Yours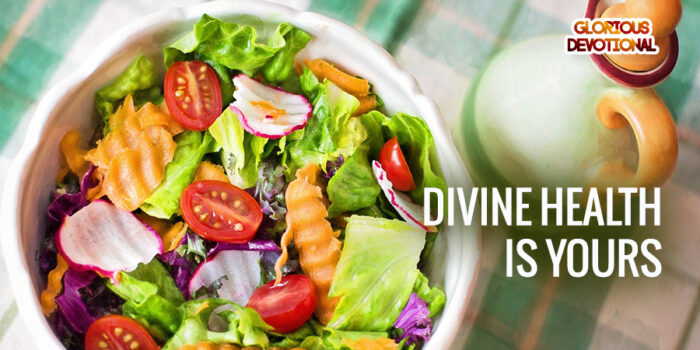 Monday 6th February 2023
Isaiah 53:5 But he was wounded for our transgressions, he was bruised for our iniquities: the chastisement of our peace was upon him; and with his stripes we are healed.
The verse of scripture above is talking about the Lord Jesus. It says He paid for our iniquities, our peace and our healing on the cross. He came to suffer and pay the price for these things for us, and He actually paid the ultimate price – He died for them.
Now we have been saved and given the gift of divine health by this great sacrifice of Jesus Christ on the cross of Calvary.
Anyone would feel so bad if you really went through a lot to pay for maybe your child, or your younger brother's school fees, then he went to school, and was still locked out and denied lectures because they accused him of owing, when you had already paid for everything up front!
This is what the Lord Jesus feels anytime we go through sickness or any form of ill health, after He has paid the full price for our complete health!
1 Peter 2:24 Who his own self bare our sins in his own body on the tree, that we, being dead to sins, should live unto righteousness: by whose stripes ye were healed.
The Bible here recounts how Jesus bore our sins on the cross, so that we would live a life of blessings, righteousness and health in Him. He is the one who makes us righteous and healthy, not by our own effort or might. All we need to do is open up ourselves to Him, believing and confessing this Word, glory to God.
Going through sickness again after the Lord has paid for your health is making Jesus sad again. It is refusing what He really suffered to give you on the cross. It is allowing the devil to lie to you, and put what is not yours on you.
I once heard someone say every sick Christian is a thief, because they are holding what does not belong to them.
Do not allow the devil lie to you that sickness is a normal human thing, or that the Lord is trying to teach you something by allowing you to be sick. God has tools to use to teach you. Sickness is not from Him. A study of the Book of Genesis shows the Lord never created sickness. The devil brought it in. God does not use the devil's tools. He has enough of His ways and tools – the Word, the Holy Spirit, His voice and leading and His holy angels, to speak to you and make you walk right.
Sickness is not a normal human thing. It only came in after the fall of Adam in the garden, after Adam disobeyed God and listened to the devil (Genesis 3:17). Jesus came to die for all man's sin, including original sin, the sin of Adam, and return us to the state of blessings Adam was in, before the fall (Romans 5:17-19)
Confess your health today and everyday, and allow the Lord minister health and healing to your body, hallelujah.
CONFESSION
I am full of health in Christ. Jesus paid the price for my health and healing, thus I cannot be sick. By the stripes of Jesus I have already been healed, and I walk in peace, health and blessings in Christ Jesus. I am full of His power, mercy, rest and glory. I am walking in divine health and peace every day of my life, in Jesus Name!
MORE LIGHT (MEDITATE ON, AND PRAY WITH THESE)
Romans 5:17-19 NLT 'For the sin of this one man, Adam, caused death to rule over many. But even greater is God's wonderful grace and his gift of righteousness, for all who receive it will live in triumph over sin and death through this one man, Jesus Christ. Yes, Adam's one sin brings condemnation for everyone, but Christ's one act of righteousness brings a right relationship with God and new life for everyone. Because one person disobeyed God, many became sinners. But because one other person obeyed God, many will be made righteous. '
3 John 1:2 Beloved, I wish above all things that thou mayest prosper and be in health, even as thy soul prospereth.
Exodus 23:25 And ye shall serve the LORD your God, and he shall bless thy bread, and thy water; and I will take sickness away from the midst of thee.
Jeremiah 30:17 For I will restore health unto thee, and I will heal thee of thy wounds, saith the LORD; because they called thee an Outcast, [saying], This [is] Zion, whom no man seeketh after.
Psalm 103:2-4 Bless the Lord, O my soul, and forget not all his benefits, who forgives all your iniquity, who heals all your diseases, who redeems your life from the pit, who crowns you with steadfast love and mercy
Check below for more interesting articles
Kindly share, and you'll be blessed. God bless you.