Why the Word of God is So Amazing Part 3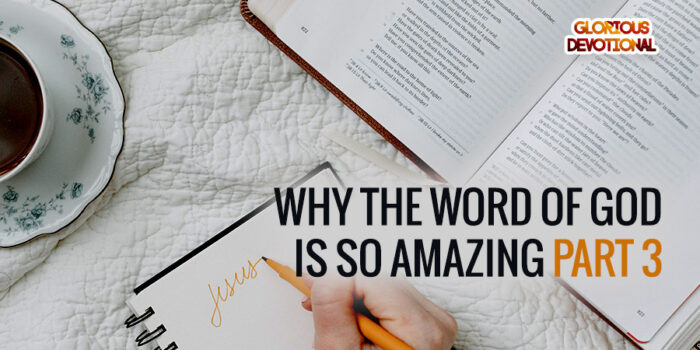 Monday 13th February 2023
Psalm 119:130 The entrance of the word gives light; it gives understanding unto the simple.
Why could the devil never defeat Jesus while He was on earth? He could never defeat Jesus because, even as a man, He was one with God.
The Bible says the Word of God is God – John 1:1. It also says in our theme verse above that this Word can make an entrance into you, our ENTER into you. When this happens, you become one with the Word, or one with God, and you become undefeatable by the devil, hallelujah.
Studying the Word of God is having an encounter with Jesus. When you take in the Word, you become just like Jesus – you become a man who is one with God, hallelujah.
… because as he is so also are we in this world. '1 John 4:17b
When take in the Word through study and meditation, we become as the Word of God says – as Jesus is, so we become – because the Word of God enters your spirit, and becomes one with your spirit, hallelujah. You would now have what made Jesus a success in His earthly life, glory!
The Word of God is God – John 1:1. God knows everything. The Word of God knows exactly how you can leave that situation. You might not know, but He knows, and He can show you how when you spend time meditating on and studying the Word. Thus you can receive a strategy that would change your life forever while you study the Word, hallelujah.
Here is what the Bible says about the Word:
'Who is the image of the invisible God, the firstborn of every creature: for by him were all things created, that are in heaven, and that are in earth, visible and invisible, whether they be thrones, or dominions, or principalities, or powers: all things were created by him, and for him: ' Colossians 1:15-16
All things in the universe, visible and invisible were created by God, using the Word of God as a tool. They were not just created BY the the Word of God, they were also created FOR the Word of God.
In other words, they were also created to be ruled over by the Word of God. The Word of God is the only legal power for rulership in creation. Any rulership outside the Word of God is rebellion.
CONFESSION
I am full of the Word of God, and it gives me clarity, health, strength, wisdom, health and grace for speed. I abide in the Word, and the Word abides in me. I am full of faith from the Word, and my prayers and faith are working as a result. I can never go down, because the Spirit of the Word dwells in me. Rather, I am full of the spirit of Wisdom for the Word, and I know what to do at all times, in Jesus Name.
MORE LIGHT (MEDITATE ON, AND PRAY WITH THESE)
Colossians 3:16 Let the word of Christ dwell in you richly, teaching and admonishing one another in all wisdom, singing psalms and hymns and spiritual songs, with thankfulness in your hearts to God.
Isaiah 55:11 So shall my word be that goes out from my mouth; it shall not return to me empty, but it shall accomplish that which I purpose, and shall succeed in the thing for which I sent it.
John 1:14 And the Word became flesh and dwelt among us, and we have seen his glory, glory as of the only Son from the Father, full of grace and truth.
Hebrews 4:12 ESV For the word of God is living and active, sharper than any two-edged sword, piercing to the division of soul and of spirit, of joints and of marrow, and discerning the thoughts and intentions of the heart.
Check below for more interesting articles
Kindly share, and you'll be blessed. God bless you.