Sowing and Reaping – the Secret of Success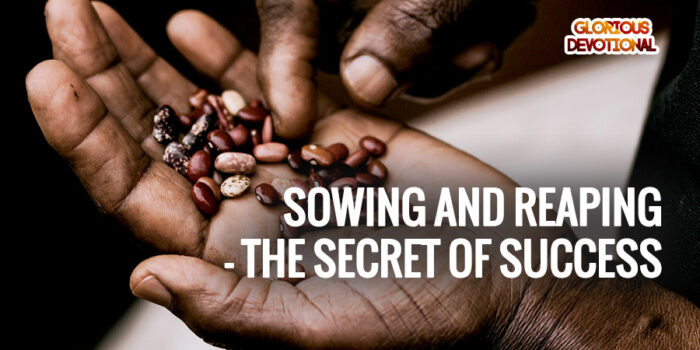 Wednesday 22nd February 2023
'While the earth remaineth, seedtime and harvest, and cold and heat, and summer and winter, and day and night shall not cease.' Genesis 8:22
The Word says seedtime and harvest (sowing and reaping) shall not cease on the earth.
The things we do in life are seeds. Most blessings that we receive in our lives are harvests from our seeds.
Be not deceived; God is not mocked: for whatsoever a man soweth, that shall he also reap. Galatians 6:7
If you want a harvest of blessings, you have to sow seeds of acting on His Word. Good seeds of obedience to God's Word, acts of helping others out of selfless love, etc, produce harvests of blessings in our lives.
Also, acts of wickedness, selfishness, murder and disobedience to the Word of God can produce negative harvests in our lives.
Someone might say I know someone who does things like this, they are doing well. For one, you do not know all that person is passing through secretly. Two, the harvest time might not have come, and three, that harvest might even be in the lives of his or her children.
However, the greatest seed we can sow in our lives is the blessing of salvation, which we receive when we give our lives to Jesus. It gives us the blood of Jesus to wash ourselves of negative seeds.
But you need to continually sow seeds of blessings into our lives. Life is like a farm. Without sowing good things, there is no good harvest.
Life is all about sowing and reaping. You always have something to sow. Prayer is a good seed. Confessing the Word is a good seed. Service is a seed. Your time is a seed. You can sow it by doing acts of service, or sow it into your life by investing it in something that improves you like a book, a course, school or training, practising a skill, meditating on God's Word. instead of wasting it.
We move to new levels in life by our seeds. Good or bad seeds can completely change your life and future. Life is all about sowing and reaping.
"Never again, as long as the earth exists, will sowing and harvest, cold and heat, summer and winter, and day and night ever cease." Genesis 8:22 ISV
Take a decision to sow more good seeds today.
You will win in Jesus Name.
CONFESSION
I am sowing good seeds into my life everyday, and reaping a harvest of blessings. I am full of wisdom and strength. I am a giver, and I am manifesting the harvests and the blessings of the Lord all over my life, everyday, in Jesus Name, Amen.
MORE LIGHT (MEDITATE ON, AND PRAY WITH THESE)
Psalm 126:5-6 They that sow in tears shall reap in joy. He that goeth forth and weepeth, bearing precious seed, shall doubtless come again with rejoicing, bringing his sheaves with him.
Luke 6:37-38 Judge not, and ye shall not be judged: condemn not, and ye shall not be condemned: forgive, and ye shall be forgiven. Give, and it shall be given unto you; good measure, pressed down, and shaken together, and running over, shall men give into your bosom. For with the same measure that ye mete withal it shall be measured to you again.
Ge 26:12 Then Isaac sowed in that land, and received in the same year an hundredfold: and the LORD blessed him.
Pr 12:11 He that tilleth his land shall be satisfied with bread: but he that followeth vain persons is void of understanding.
Check below for more interesting articles
Kindly share, and you'll be blessed. God bless you.