The Key to Being Rich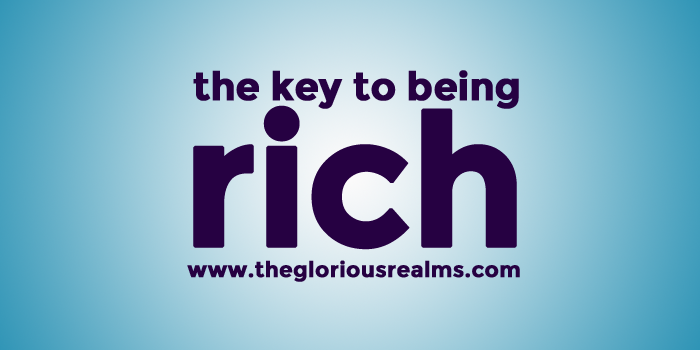 One of the major differences between the rich and the poor is in planning.
Proverbs 21:5 says, Careful planning puts you ahead in the long run; hurry and scurry puts you further behind.
What you do not prepare for, you do not succeed in. We all remember this from school exams then 🙂 … but it applies to life and money too.
Funny enough, I used to think rich people were lucky. I chuckle sometimes when I think of that now…
In life, you get results from where you sowed. When you sow into grace, you get the result. When you refuse to do what you were told it takes, you get less results. Simple.
Someone (Zig Ziglar) once said, You were born to win, but to be a winner, you must plan to win, prepare to win, and expect to win.
While the poor are insulting the authorities for making the economy the way it is, the rich are busy thinking up ways to make more money in spite of, or even because of the way the economy is.
The rich are proactive. They want to plan ahead to take care of eventualities. Anyone can make money inspite of, and even from, problems by planning how to help others solve them. For example, someone noticed that people do face tragedies from time to time in their lives, and decided to build a business around helping people prepare in case they do happen. Thus was born the insurance industry. The volume of business underwritten by the insurance industry in 2012 in Nigeria alone was estimated at N240 billion.
Problems came into the world after the fall of Adam. God allowed them because they would be someone else's solution.
The solution to your issues is in planning and preparing how to solve someone else's issues. This is the sole reason businesses employ staff, and people give their hard-earned money to businessmen.
Do a basic SWOT (Strength, Weaknesses, Opportunities and Threats) analysis on yourself, decide what you have to offer, how you can improve yourself to become more beneficial to people/businesses in that area, WRITE down a plan of action based on this, and start doing it today.
Jesus said, For which of you, intending to build a tower, sitteth not down first, and counteth the cost, whether he have sufficient to finish it? (Luke 14:28).
Your future is more than a tower. Plan today…!
Toasting to your financial and life success…
Johanan John Great
If you love this post, feel free to share it.
Have a great week ahead…!