Is Your Boast In Appearance?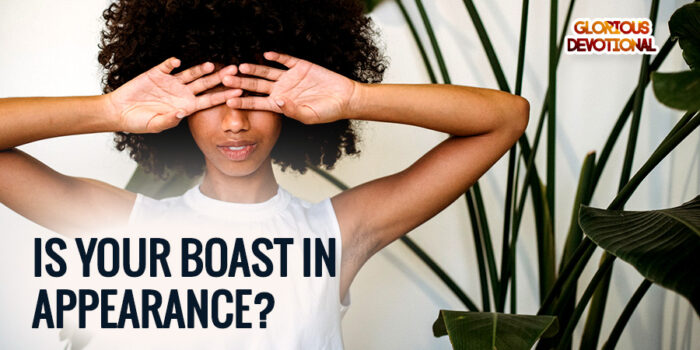 Tuesday 14th March 2023
For we do not commend ourselves again to you, but give you opportunity to boast on our behalf, that you may have an answer for those who boast in appearance and not in heart. 2 Corinthians 5:12 NKJV
What is your focus as a Christian? What is your reason for being happy right now, and giving praise to God? What are the notable things you are proud of in your life?
Is it your APPEARANCE, or your HEART?
Like Paul said in the verse above, most Christians make their boast in APPEARANCE – money, power, physical accomplishments, etc, rather than HEART – their love for, focus on, growth and sacrifices for Christ and His kingdom.
As Christians, most of our prayer points are usually about appearance, rather than heart. Our personal desires are usually about appearance, rather than heart. The way we even assess other Christians is more about their appearance and physical achievements, rather than their heart for God. The way we assess men of God is about appearance, rather than heart.
But the LORD said to Samuel, "Don't judge by his appearance or height, for I have rejected him. The LORD doesn't see things the way you see them. People judge by outward appearance, but the LORD looks at the heart." 1 Samuel 16:7 NLT
The Bible tells us that the Lord looks at the heart, rather than the appearance, and it also tells us that we are to be like Him too (Ephesians 5:1).
How are you assessing your walk in Christ so far? Is it by your appearance/achievement, or heart, or love for God, and if it has been growing or not? What is making you happy or sad right now? What is showing in your life that makes you know you have grown? Is it your appearance/achievements, or your heart for God?
How are you assessing why you should respect other Christians more? Is it because of their appearance, or the fire in their hearts and lives for Christ?
Who would you give more respect to, and thank God for his or her life more, is it the brother/sister in Christ with a posh car, or the one trekking, but you obviously see the love of Christ written all over him and what he does?
There is absolutely nothing wrong with having cars, houses, physical accomplishments, etc. However, we should put more prominence our spiritual growth and love for Christ and for others.
Let your boast and your focus be on your heart, and the heart of people as from now; not on their appearance.
CONFESSION
Father, I thank you. I pray you would make me grow spiritually, to look away from the carnal things, to the things of the heart and of the spirit. I am not carnally or earthly focused, but spiritually and heavenly focused. I am intentionally growing in my heart state, and my love for the Lord, and I am moving forward spiritually and physically, in Jesus Name.
MORE LIGHT (MEDITATE ON, AND PRAY WITH THESE)
JohN 7:24 Judge not according to the appearance, but judge righteous judgment.
Jas 2:2-4 For if there come unto your assembly a man with a gold ring, in goodly apparel, and there come in also a poor man in vile raiment; And ye have respect to him that weareth the gay clothing, and say unto him, Sit thou here in a good place; and say to the poor, Stand thou there, or sit here under my footstool: Are ye not then partial in yourselves, and are become judges of evil thoughts?
Romans 8:6 ESV For to set the mind on the flesh is death, but to set the mind on the Spirit is life and peace.
Lu 16:15 And he said unto them, Ye are they which justify yourselves before men; but God knoweth your hearts: for that which is highly esteemed among men is abomination in the sight of God.
Check below for more interesting articles.
Kindly ask questions, etc in the comment box below.
Be blessed as you share. God bless you.