2014: Excellence!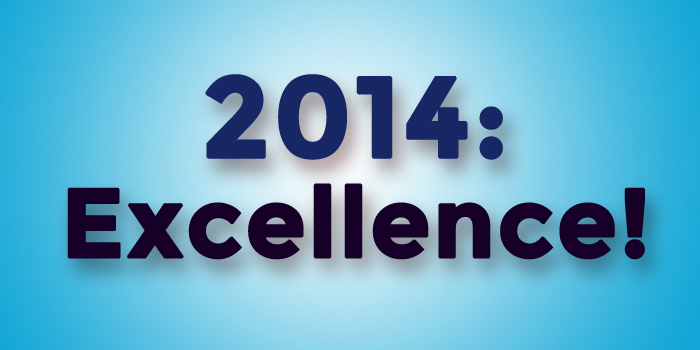 2014 is an extremely special year. The Lord has been speaking to us about this year, even before the end of 2013.
These are some of the things He told us.
These are direct words of prophecy. They are praise points for us, hallelujah!
The Lord has said you would experience BIG CHANGES in your life this
year. You shall experience
EAR-TINGLING testimonies in your life this year. There shall be great
financial testimonies, and testimonies in various areas of your life.
The Lord says He shall be rewarding you for all you have been doing
for Him, and answering your prayers of all these years. Be calm says the
Lord, for all is well!
Be involved in the work of the Kingdom,
because this grace is released for the work of the Kingdom this year.
It shall be a year of REWARDS. It shall be a year of blessings, of
good news, and of testimonies. People shall wonder how you did it when
they hear your news this year. They shall be amazed at how well you
are suddenly doing. Tell them it's your God, and bring them to Him, in
church, online, on a group, etc. Before one good news from you goesdown this year, another would come up! It will make people wonder.
Psalm 138:8
The LORD will perfect that which concerneth me: thy mercy, O LORD,
endureth for ever.
Excellence denotes perfection. The Lord says He is giving you Psalm
138:8 as a gift this year! Just accept it and take it. The Lord shall perfect all that concerns you this
year. The things you started in previous years shall be perfected and
established in 2014. The things you did not start in previous years
you would start this year, and they shall be perfected and established
this year! He is giving you SPEED and EXCELLENCE!
The Lord's very clear instruction for this time is PRAISE. He wants us
to praise Him for these things He has started doing in
our lives already. It is a year when He has said He would be with you
in His express PHYSICAL manifestation to protect and increase you. The
Lord says "Go out and conquer this year in what you do, for when you
go out,, I will be with you and all your materials,
on the left and on the right. I will protect you and yours, and you shall
conquer!"
Excellence shall be your portion this year. There might be challenges,
but let His Praise be on your lips all through, and you shall have all
you need – grace, wisdom and strength to win in all that comes
against you. The Lord says to say this: "Who art thou, O great mountain? Before
[me] thou shalt become a plain; and [I] shall
bring forth the headstone [testimony] thereof with shoutings, crying,
'Grace, grace unto it! [meaning: only by grace could he have done this!]'"
We shall be sharing more on this on our platforms in coming days. Do join us on www.facebook.com/groups/thegloriousrealms.
Subscribe for email updates on www.thegloriousrealms.com, and tap into
this grace for excellence for this year! The
Lord shall certainly be with you all through this year.
You shall have an awesome 2014 , in Jesus'
Name!